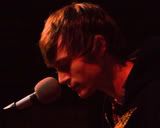 I've been promising this interview for a couple of weeks now, and I apologize to the people who've been waiting for it (
Sam
, I'm looking in your direction). I've been wanting to interview
Nic Lefebvre
since I started this blog. He's one of my favourite musicians, who writes some of the most interesting songs I've heard in a while. One of his songs, "Oh Friend", has been a reoccurring cover on my set lists for months. He's been busy this year, releasing an album of his own music (under his birdsacrosswater alias), an album with his band
Hunt Chant
, a move to Montreal, and most recently, an E.P. that you can download for free on his
Myspace
page ("Them Neon Mountain Tops" is particularly stunning). I present you, Nic Lefebvre.

-Hows it going, nic?


I'm well. a litttle sleepy, a little drained. Must be the new diet....
-how are you finding the move to Montreal?


The move to montreal went well, there was a couple snags along the way, you know, a landlord that fucked us over which lead us to moving a little later then expected. But we ended up getting a beautiful place right in the heart of the city, saint denis et rachel. I love this city thus far,except it rains far too much.
-you come out of the very fertile London Music scene, how has it influenced you?
The london music scene is great, and by music scene I mean the
viking swimmers of 1926
/
autumn lovers
. It seemed to all really come together in the last year or so and is blossoming into a beautiful thing, lots of great, original music and art being made. I don't know how big apart of that scene I am, I kind of just wrote music by myself or with
Mike O'brien of sick friend
(though for a brief time i was playing accordion for olenka and the autumn lovers), but it was nice to have that community of artists all supporting each other. I'm sure we all influence each other in some form.
-you just released the first Birdsacrosswater album,

In a Pie

, how long did it take you to finish that?
Yeah, I wrote "in a pie" during the winter of 2007/8. T'was a harsh cold winter. the songs themselves didn't take long to write, I pretty much wrote and recorded every song on the album in a night or so, they seemed to flow right out of me. this last year was extremely hard on me, I basically lost my brains. I didn't have any comprehension of right or wrong, and taboos that our society like to force feed us really confused and angered me, I guess it was a whole lot more than that too, lots of personal problems. c'est le vie, haha... that being said I do feel that "in a pie" is a very true and honest album and it felt like it was important album for me to make.
-What was your writing process?
My writing process is pretty simple I guess, it changes from song to song but basically I make a progression, record it and built from there. Once I start, I usually just sit there and record until the entire song is complete, lyrics overdubs and all. it's kind of like painting in a sense putting all the colours together and creating a scene, and doing it all while you're in the moment. I find it's a better way for me to record
birdsacrosswater
stuff, it tends to create a vibe and I find I can be more creative and less critical when I embrace the spontaneity of it.
-You play almost everything on the album, was that more out of necessity, or do you find you work better by your self?
Yeah, I pretty much played everything on the album, like I was saying I recorded everything all in a night or so and the ideas would just sort of flow out so being able to play everything all on your own makes it much easier, especially when you can hear what needs to go in the song. As for the additional instrumentation, those were the instruments I didn't know how to play but I knew I wanted them in there, like trumpet for example.
-What sort of themes do you try to explore in your music?
The themes tend to be very personal, or observations on our society and such... I try to write in a way that they can be interpreted in different ways, I guess.
-I've always loved your singing, you have a very unique voice.
Why thank you, it's a little something i've been working with, haha.
-You and Michael O'Brien (of Sick Friend) have a new album coming out as "Hunt Chant". First question about that, why the name change? (from Harvest chant)
Well, the album is in fact out right now. it's called "our worth in rust" and it turn out really well in my opinion. It was the most ambitious album i've ever worked on. So... about the name change, we simply weren't feeing it, that and it was dangerously close to that breakfast cereal harvest crunch. The new name may not be sticking around either due to death threats and all. So if name mysteriously changes again it's cause I wanted to live another day.
-How long have you and Michael been playing together?
Mike and I have been playing for about a year now, mike was helping back me up for a couple
birdsacrosswater
shows but then we just started writing new material that was different from both of our solo projects so we turned it into something new.
- what sort of differences do you find between your style of playing and his?
Well, I think we both have quite different styles. I'm the quiet one and mike the loud one, haha.
-What is the writing process, how does it differ from Birdsacrosswater?
When we write we tend to just jam on riffs and hooks, from there we'll pick out the goods, develop a structure and transform it into a song. The music and vocal melodies come first then we'll worry about lyrical content afterwards. It's not all that much different from birdsacrosswater stuff, it's just the content and sounds that are much different.
-Can we expect Hunt Chant or Birdsacrosswater back in Toronto anytime soon?
Hunt Chant will be touring with
Videotape
and
Honest i's
in early august and will be playing Toronto august 8th at the Press Club.
also, I've been working on a bunch of new material for birdsacrosswater, I should have an entire 6 song ep done within the next week. I'll be posting it on my myspace and making available for free for anyone who wants it.
[Note: It's up now, and it's fantastic, check it out.]